Prices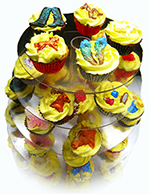 Prices of cupcakes vary from $2-2.50 ea-$8 ea depending on the design – elaborate wedding cupcakes with flowers and fantastic 3D designs are more expensive than imaged birthday cupcakes. Undecorated cupcakes/muffins in our local supermarket are around $1.80 ea so we consider our prices very reasonable. For decorated sugar cookies we charge a minimum rate of $2 ea and they can be up to $5 ea depending on the design and amount of hours required to make them – cookies with 3D effects such as miniature roses, glitters etc can be more expensive than plain iced cookie shapes.
Sizes
We only make one size – large – base diameter 2", top diameter 3", height approx 2-3" depending on design. Small and tiny cupcakes are more time consuming and fiddly than the larger ones so we choose not to do them. Average weight of our decorated cupcakes are 40-55g.
Frostings
Cupcakes can be iced with the following frostings: buttercream, royal, glace, or melted white or dark chocolate. Sugar cookies can only be iced with royal icing
Designs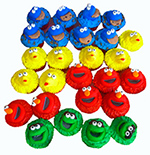 Our reasonably priced cupcakes are simply iced and usually have an image print on the top with sometimes sugar pearls and confetti – remember when sending photos through for these that the actual size of the image is only approx 4cm (1½") so there cannot be a lot of detail or writing. I need at least 2 weeks to make up the images for the cupcakes and writing. More elaborate cupcakes with 3D figurines, flowers like roses, frangipani etc, icing and chocolate bas relief toppers (including R18 naughty chocolates) can be designed for your celebration but I need plenty of time to create the toppers so please take that into account when ordering
Chocolate shot glass cupcakes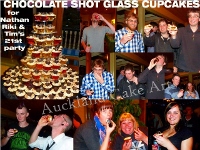 Adults only R18 – these chocolate shot glasses are edible and made from German chocolate. They sit nestled into a cupcake and I usually make a crème icing or melted chocolate to hold them in place, with shredded chocolate or Cadbury chocolate flake. You can pour any liquor into the glasses for shotting (in this photo the shot glasses were filled with Baileys Irish Creme, black Sambuca and some were filled with Willy Wonka candies for the designated sober drivers! Other liquors recommended for these cupcakes are white and dark chocolate liquors, Coruba etc). Prices for the German chocolate shot cupcakes are $4.50 each, I do not provide the alcohol or candies for filling. Stand hireage can be arranged.
Quantities
Minimum purchase amount for cupcakes is 24, we bake in lots of 12, 50, or 100. Minimum purchase amount of sugar cookies is 25 because of the amount of time and work required in making them
Flavours
Swiss Chocolate
Light Vanilla
Sweet Lemon
Tangerine Orange
White Chocolate Truffle
Chocolate Fudge
Raspberry White Chocolate
Peppermint Chocolate
Coconut Creme
Hazelnut Chocolate
Chocolate Heaven (chocolate with white and dark chocolate chips)
Strawberry Vanilla
Cheesecake Vanillacake
Jaffa Truffle
Order now
You can order cupckakes with our order form