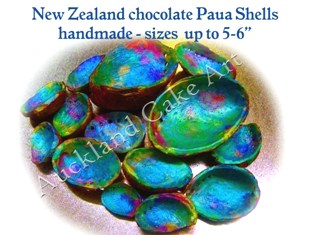 We make white or dark compound chocolate seashell sets for for home decorators use.  Each shell is handcrafted and detailed.  Most sets contain a mixture of small, medium, and large shells, some shells are not included in our standard sets but sold seperately (see below) e.g. large pink Conch & Paua.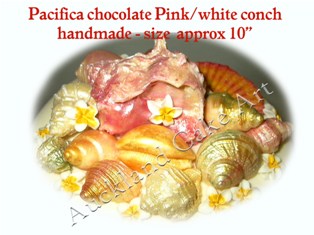 Every seashells set is different and we do not make sets of just small or large shells; customers cannot request certain shells for their sets. We will not break up sets to sell smaller amounts, sets are either 50 pieces or 80-100 pieces except for the paua and conch sets. We do not have sets of shells premade, every set is painstakingly handmade and can take days to complete so we do not usually accept rush orders.
FOR PRIVATE USE ONLY. Our chocolate shells are not intended for commercial use without our express permission.
Colours
Natural: Muted gentle natural colours, with oversheens of shimmers with ivory and pale golds
Metallic: Gold or silver variants, or a combination of both gold, silver and mother of pearl
Neons: Rich shimmery colours in combinations of blues, greens, pinks, oranges, reds with rich sparkle effects.
White/Ivory: Mother of pearl and opalescent variants of white and ivory with white holographic sparkly glitter effects.
Dark Chocolate: Dark chocolate with golden lustre
Prices
Seashells assorted: (mixed small,med & large):
Large set (approx 50 pieces) (enough for 2-3 tier cake) $135
Extra large set (approx 80-100 pieces) $155
Paua set: (similar to set shown, with 2 large and assorted medium/small)  $100
Pacifica pink conch: (large single shell only all white chocolate) $100
Post/packing/handling throughout New Zealand is $20.00.
Shells are handmade, coloured & painted. They are made using quality white or dark compound chocolate, airbrushed using food colourings and overdusted and painted using lustres, glitters and shimmers from Edable Art (UK) and Sugarflair (UK) designed for food use.
How to order
You can order a set of seashells by emailing your request to cakes@nzcakes.com